Volunteers & Hospitality
50 Years of Hospitality & Healing

The Kern Medical Auxiliary has a rich history of 50 years of continuous service at Kern Medical. Volunteers ranging from teenagers to retirees donate thousands of hours each year to assist patients, visitors and staff throughout the hospital.
Dedicated volunteers operate the Gift Shop and the Snack Bar, raising thousands of dollars annually to purchase state-of-the-art medical equipment for enhancing patient care.
We invite students, working adults, homemakers and retirees to explore volunteer opportunities at Kern Medical. You'll make friends and learn new skills while giving back to the community through your gift of time. (Adult volunteers must pass a routine health and drug screening and a background check.)
Ready to Find Out More?
Junior Volunteer Attachments
Volunteer Information Center
About Volunteer Services
Volunteering is rewarding, helpful and fun, especially if you give your time where it can really make a difference. Each year volunteers at Kern Medical provide thousands of hours of invaluable service to our patients and staff. Whether you're a teen volunteer, or a college or adult volunteer, your contribution of time and caring helps make Kern Medical a better place in our community.
Kern Medical Auxiliary, founded in 1969, is a nonprofit member organization. The Auxiliary's mission is to provide volunteer services to Kern Medical, the patients, visitors and family members; to promote public relations for Kern Medical in the community; to raise funds for the betterment of the hospital and to promote interest in health careers.
The Auxiliary has donated close to $3 million dollars in 50 years for purchasing state-of-the-art medical equipment for Kern Medical. Fundraising sources include the Gift Shop, the Snack Bar, baby photo sales and vendor sales.
Becoming a Kern Medical volunteer is a serious commitment – We ask a lot from our volunteers. From securing necessary clearances and background checks, to completing orientation and multi-step training, to fulfilling annual ongoing requirements, our volunteers invest fully to ensure that our patients and families are surrounded by a safe, knowledgeable team of volunteers during their hospital experiences.
Benefits of Volunteering
Volunteering is a great way to contribute to the community, meet new people and really make a difference. Other benefits include:
Career exploration for students
Leadership-building opportunities
Skills, training and work experience
Fellowship with other volunteers
Volunteer recognition events
Volunteer Opportunities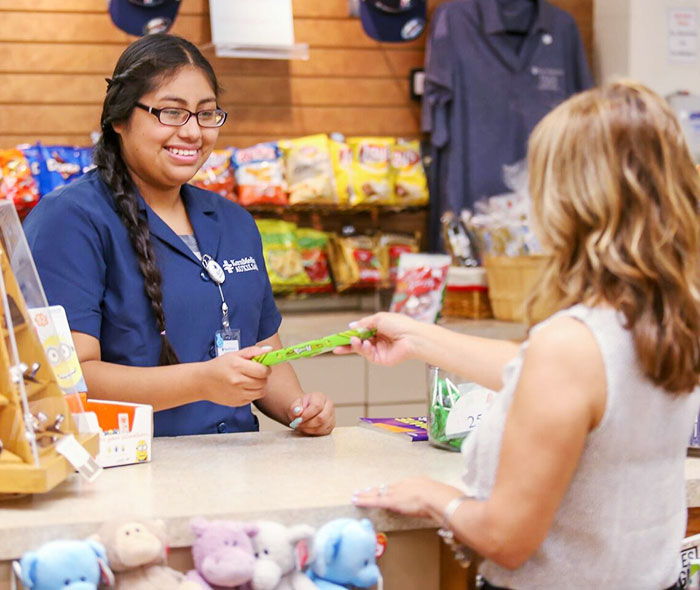 At Kern Medical, we have opportunities for those who are interested in helping people. We are here to help make life better for our patients, our community, and you. Volunteers are needed in nearly every department and are placed in different areas of the hospital based on skills, interests and availability. We hope your interest and schedule will match one of our needs:
Gift Shop – Retail sales
Snack Bar – Retail sales
Patient Care Visitor – Nursing units (non-clinical)
Laboratory
Surgery Family Waiting – Surgery Liaison
Bookmobile – Distribute books and magazines
Cuddle Program – Neonatal Intensive Care Unit and Pediatrics (must be at least 18 years old)
Emergency Department (must be at least 18 years old)
D-Wing Information Desk
Clerical Assistance
Escort Ambassador
Amputee Peer Visitor – Nursing Units (non-clinical)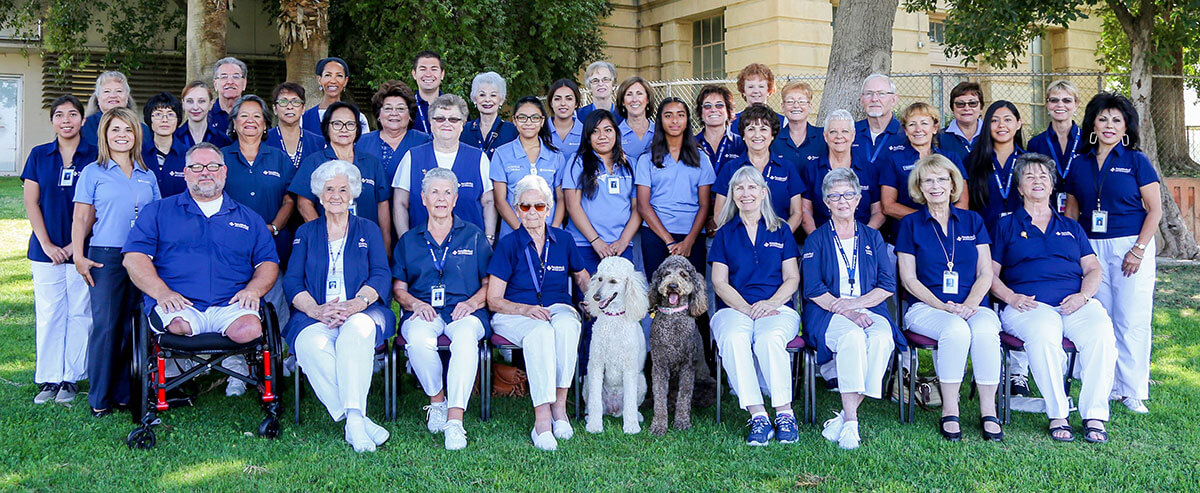 Qualifications for All Volunteers
Able to read and speak English
Excellent communication skills
Dependability
Positive attitude
Stamina to move quickly and be on your feet for up to four hours
Mobile enough to carry out errands around the hospital
Good vision and hearing
Able to push and pull at least 25 pounds
Emotionally and physically healthy when you come in to volunteer
Adult & College Volunteers
Following a personal interview and completion of the Adult/College application, selected applicants must complete the following requirements:
Health screening, TB and drug test (administered by the hospital)
A criminal background check (administered by the hospital)
Commit to a weekly schedule for at least 12 months
Attend Hospital Orientation
Complete special department training
Abide by all hospital rules and policies when on duty as a volunteer
Junior Volunteers
Our Junior Volunteer program offers students an excellent opportunity to gain insight into career possibilities within the health care field. Junior applicants must complete an interview, the Junior Application and the appropriate consent forms including the following requirements:
Must be 15 to18 years old
Be a full-time student in the 9th through 12th grade
Have received at least a "C" in all classes
Submit application packet with all the requested attachments
Complete interview with the Volunteer Services Manager
Complete lab requirements for health screening
Attend Hospital Orientation when scheduled
Be available to volunteer at least once a week for a 3-4 hour shift
Volunteer a minimum of 100 hours before any letters of reference will be provided
Summer program volunteers are expected to complete at least 7 weeks
Pet Therapy
A Pet Therapy Volunteer must own the pet and meet these requirements:
The dog is required to complete obedience school to learn the basic commands
Pets are required to obtain their Pet Therapy Certification. There are two companies that provide certifications for pets – TDI (Therapy Dog International) and Pet Partners and they evaluate the pet yearly
For more information on becoming a volunteer at Kern Medical, please call 661.489.5254 or email Sylvia.Walker@kernmedical.com