Kern Medical Loteria
Purpose:
To bring awareness to the health issues facing Kern County
To help improve the health & wellness of our community
To create a fun way for families to learn about important health issues
Kern Medical Loteria was designed with the help & support of Mujeres en Medicina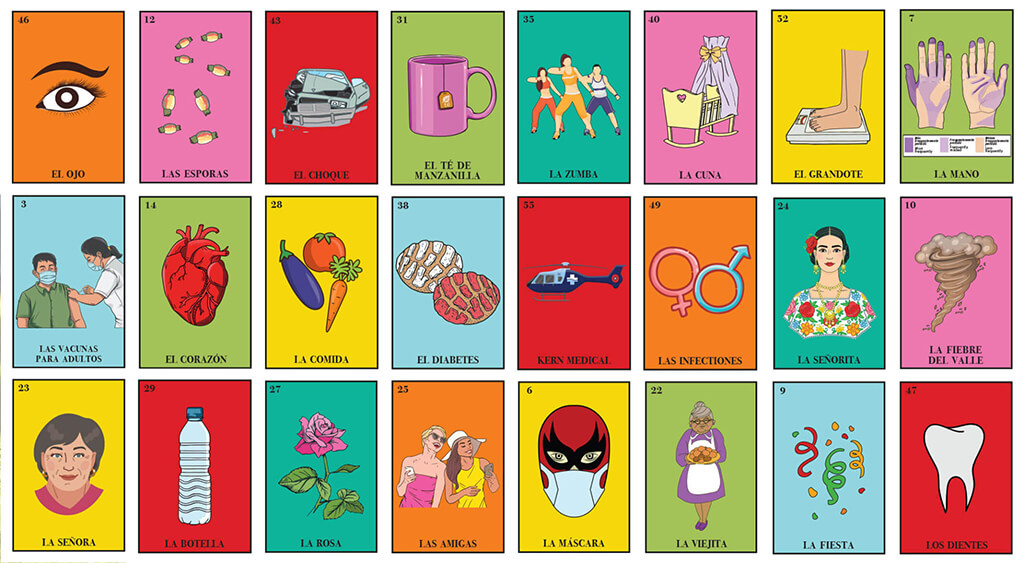 The Making of Kern Medical Loteria
The Kern Medical Foundation formed Mujeres en Medicina in 2018 to help guide young, Kern County students into careers in healthcare to help address the growing shortage of Healthcare providers in the Central Valley. Mujeres en Medicina is comprised of Hispanic women in a variety of careers at Kern Medical. We are a diverse group of women who hold different roles in healthcare such as nurses, medical students, pharmacists, laboratory scientists, radiology techs, healthcare administration, and many others.
Since the formation of Mujeres en Medicina, we have discovered many similarities among the group, including goals, achievements & challenges, and most importantly, our background. Many of our parents were apprehensive about letting us attend college, mostly due to the lack of knowledge behind what it meant to have a college degree. College, to many of our parents, was unattainable.
In the beginning stages of developing our program, we discovered that many of us had struggled to convince our parents that it was not only safe to go to college, but it was an opportunity that we could not pass up. This was when we knew that our Mujeres en Medicina team could help students and families navigate through the same challenges we faced. Helping dispel the fear of college for families became one of our first priorities.
Since then, Mujeres en Medicina has been committed to building a health career pathway pipeline for the Southern San Joaquin Valley. Most recently, we felt the need to do even more. We wanted to find a way to help improve the overall health of our community. We wanted to create something big & loud that would bring awareness and help our people understand the higher health risks we face by simply being born Hispanic.
We set out to create a campaign that was designed specifically for Spanish speaking community, as well as 1st and 2nd generations living in Kern County. We wanted to ensure that our reach went beyond English-speaking homes. We wanted to be in the homes of those who need assistance navigating through healthcare but don't know who or where to turn for it. Our focus was to reach those most in need of resources and help guide them on how to advocate for their own health.
We strategized about finding something easily identifiable, that would serve the whole family. We agreed Loteria would be perfect. As we shared our plans for a health focused version of Loteria with partners, we received one of two reactions: An immediate smile, or confusion. The smiles came from those who grew up in a Hispanic household and associated it with happy memories; we knew then, we had succeeded in finding a way to share the most pressing health education in a way that would resonate with the Hispanic community.
On behalf of the Mujeres en Medicina team and the Kern Medical Foundation, we are all excited to share Kern Medical Loteria. We hope that while you have fun playing Loteria, you also find time to prioritize the health of both you and your family.
For More Information About the Loteria Campaign
Please contact Micaela Albiar at 661.321.7464 or Micaela.Albiar@KernMedical.com